- by FTD STEADY on Tuesday 24th 2015f March 2015 (11:14:42)


| | | |
| --- | --- | --- |
| | Ascendance DLC March 31st 2015 | |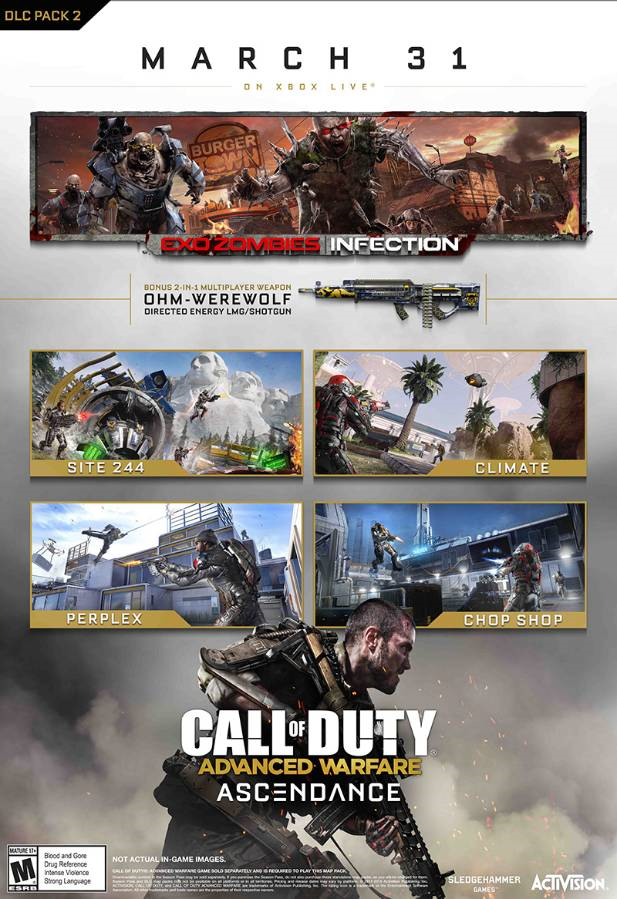 Prepare for Ascendance, the second downloadable content pack for Call of Duty®: Advanced Warfare. Ascendance features part two of the Exo Zombies co-op experience: Infection, four unique Multiplayer maps, the OHM bonus weapon and weapon variant, as well as the new Exo Grapple Playlist

- by FTD STEADY on Friday 20th 2015f March 2015 (12:16:19)


| | | |
| --- | --- | --- |
| | HAVOC DLC due 27th January | |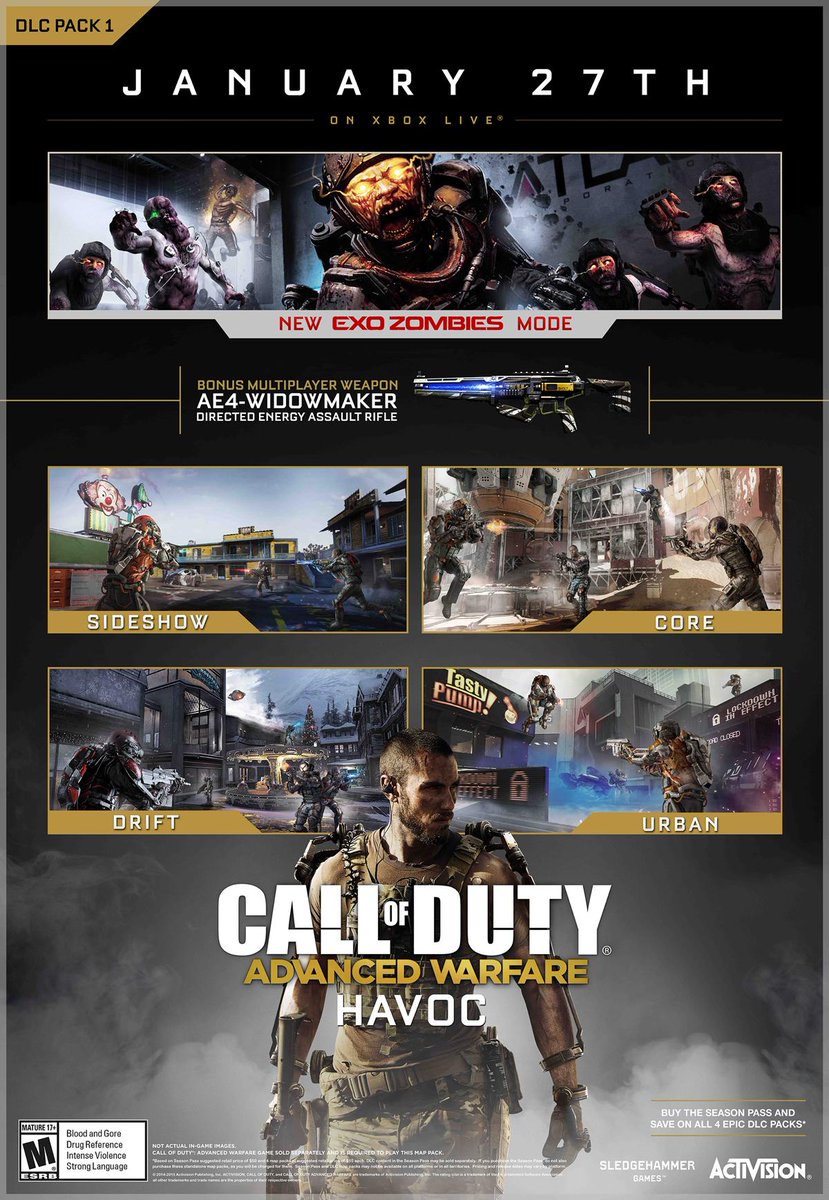 - by FTD STEADY on Wednesday 31st 2015f December 2014 (11:00:58)


As many Clan members didn't participate or didn't understand how Clan Wars works here's a video guide:

- by FTD STEADY on Thursday 11th 2014f December 2014 (15:58:05)


| | | |
| --- | --- | --- |
| | Early Access to DLC weapon | |
Havoc, the first DLC pack for Call of Duty: Advanced Warfare, is set to release early next year. This pack will come with an all-new weapon, the AE4 directed energy Assault Rifle. The AE4 combines a versatile firing mechanism with all-around movement speed and handling. In addition to the base weapon, the AE4 Widowmaker custom variant will also be included.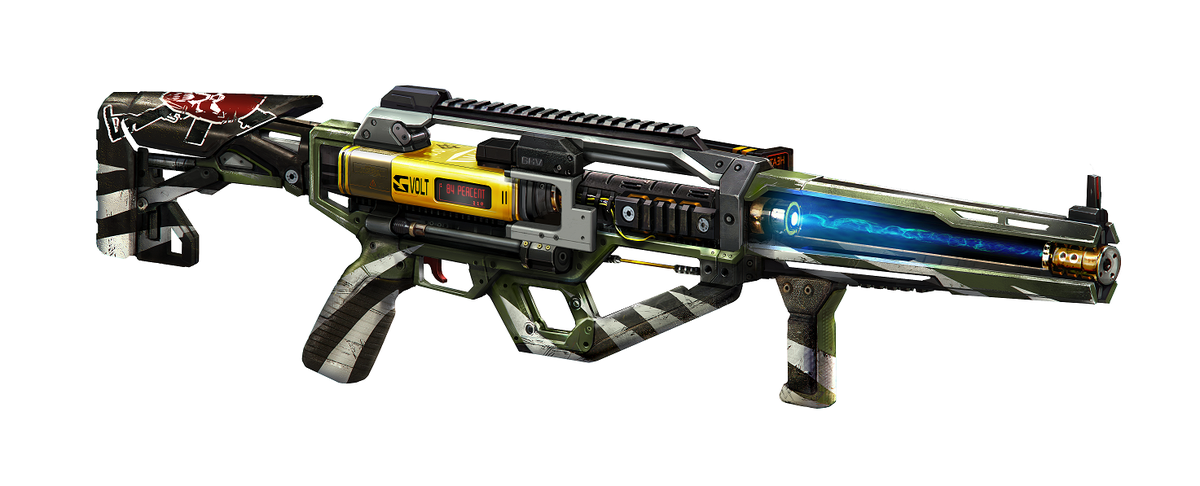 ]
As a bonus to Xbox Season Pass holders, you'll receive early access to the AE4 and the AE4 Widowmaker starting December 11th. Don't worry if you'll be receiving Season Pass during the holidays; anyone that gets an Xbox 360 or Xbox One Season Pass after the 11th will gain instant access to both weapons.


]

- by FTD STEADY on Thursday 11th 2014f December 2014 (15:48:29)


| | | |
| --- | --- | --- |
| | Advanced Warfare App details | |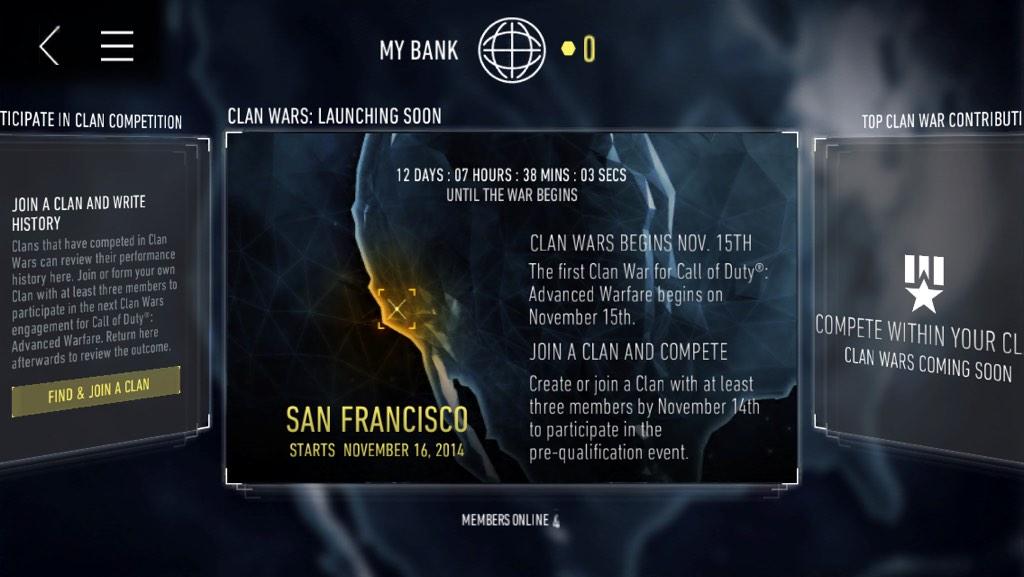 ]
This year, the app focuses on an enhanced Clan Wars experience, enriched Clan management, and unique content creation.

Clan Wars

Clan Wars for Advanced Warfare will begin with a pre-qualifying war from November 15th - 16th. Placement during that war will determine your division ranking for the first official Clan War, scheduled from November 26th – December 1st. On the line is the gold Exo for the Clan Wars exclusive gear set.


Players who participated in the final Diamond Division Clan Wars engagement for Call of Duty®: Ghosts and met the criteria to unlock the first piece of Clan Wars gear for Call of Duty®: Advanced Warfare will be able to access the Exo-skeleton on Day Zero. Congratulations!

To all Clans, from Bronze to Diamond, thank you for your participation and dedication this past year.

War Room

Your new Clan Wars experience begins with the War Room, providing a commander's oversight of the most important Clan Wars activity. Three scrollable panels offer pertinent info on the current Clan War, previous engagements, and Top War Contributors.

Utilize the Battle Report for a quick overview of current Clan Wars activity. Tap and scroll through nodes for a detailed view of capture objectives, Clan wins, and multiplayer XP bonuses. Check the Clan Wars scoreboard to see where your Clan ranks against the competition. Review Top War Contributors to discover your most impactful members during each engagement.

Reach into the Clan Wars Vault for an archived history of past triumphs and defeats. See your final standing, accumulated Clan XP, and any earned rewards.

Active Roster

To better accommodate scheduling conflicts, we're introducing the Active Roster. If some members of your Clan are unable to participate in an upcoming Clan War, the Clan Leader can remove those members from the Active Roster. Upon doing so, the absent members will no longer count towards the Roster count and any wins achieved by those members will not be recorded against the active war. The Clan Leader can just as easily add those members back to the Active Roster when they're available to compete.

Clan Profile

Your Clan Profile page has been bolstered to highlight the top performing members of your Clan. Each week, we will highlight your most active member, MVP, and player with the highest KDR. Nothing wrong with a little friendly competition, right?

Clan Calling Cards

Exclusive Clan Calling Cards will be supported in the game and in-app. Level up your Clan by competing in Clan Wars or playing multiplayer matches with Clan members to unlock more Clan Calling Cards.

Emblem Editor

Player Emblems are back in-game and in-app. Using our robust Clan Emblem editor, start designing your Emblem in the app while on the go, and then finish it at home on your console, or vice versa. In addition, this year, we're giving all Clan members the ability to design and submit a Clan Emblem to their Clan Leader for approval.

- by FTD STEADY on Tuesday 4th 2014f November 2014 (11:06:49)


| | | |
| --- | --- | --- |
| | Advanced Warfare upgrades | |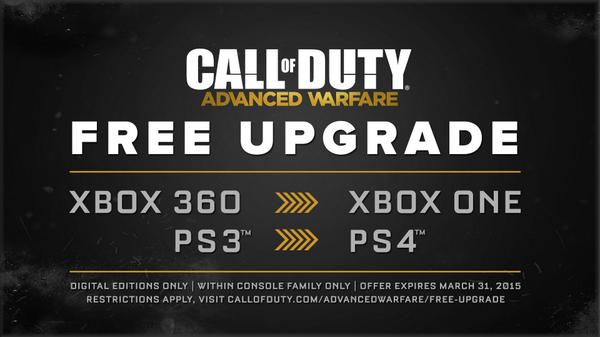 As fans around the world gear up for a new era of combat this November, we have great news for those of you who plan to secure your copy of Call of Duty: Advanced Warfare digitally. If you purchase a digital copy of Call of Duty: Advanced Warfare on Xbox 360 or PlayStation® 3 before March 31st, 2015, you will be able to download the next-gen version within the same console family for free.

In addition, Season Pass, all DLC purchased for in-game use, and Multiplayer stats will carry over free from Xbox 360 to Xbox One with no deadline.


- by FTD STEADY on Tuesday 4th 2014f November 2014 (11:04:45)


New video produced by FTD Steady



- by FTD STEADY on Saturday 6th 2014f September 2014 (18:18:22)


http://www.twitch.tv/fragtestdummies/

- by FTD STEADY on Thursday 28th 2014f August 2014 (23:53:07)


The third DLC Pack available for Call of Duty®: Ghosts, Invasion is set to release June 3rd for Xbox LIVE. Invasion features four Multiplayer maps:

Pharaoh - An abandoned archeological site of an ancient Egyptian palace. Those most adventurous to explore this multi-level map will be handsomely rewarded with its deepest secrets.


Departed - A rural Mexican town amidst the Dia de los Muertos (the Day of the Dead) celebration. Complete a Field Order to unlock the Death Mariachi - armed with dual-wielding pistols that turn downed enemies into your own squadmates.


Mutiny - A pirate hideout in a secretive Caribbean cove. This eerie map includes an hauntingly unique killstreak: an escort of ghostly pirates to send your opponents to Davy Jones' Locker.


Favela - A refreshed version of the fan-favorite Call of Duty®: Modern Warfare® 2 map. Return to Brazil to fight on the connected rooftops and narrow passageways.



- by FTD STEADY on Tuesday 3rd 2014f June 2014 (10:54:11)


| | | |
| --- | --- | --- |
| | Notice to MW3 BO2 players | |
Call of Duty Elite officially shuts down Friday;
As an extra thank-you for supporting Elite, users who have logged into the Call of Duty: Elite service since January 1, 2014 will receive two hours of Double XP in Call of Duty: Ghosts.
http://t.co/NsJAXDnkwQ

- by FTD STEADY on Tuesday 4th 2014f March 2014 (14:06:29)


- by FTD STEADY on Tuesday 5th 2013f November 2013 (00:12:33)




More duty than you can stab in the face! Frag Test Dummies will have a Xbox 360 "Call of Duty: Black Ops 2" Clan.

We are looking for more players to join us online. Requirements are Xbox Live Gold, COD Elite membership, microphone, and aged 16+. You must be willing to take part in Clan Operations, challenges and matches.

Interested? Then PM 'FTD Steady' via Xbox Live. Good luck out there!
- by Golem on Thursday 18th 2012f October 2012 (12:21:19)


Frag Test Dummies now have a Xbox 360 Call of Duty: Modern Warfare 3 clan.
We are looking for more players to join us online. Requirements are Xbox Live Gold, COD Elite premium membership, Mic, and aged 16+, the squad plays together most evenings and take part regular in Lone Wolf and Clan Operations.
Interested? Then PM FTD Steady via Xbox live - by
Golem
on
Monday 16th 2012f July 2012 (08:57:42)